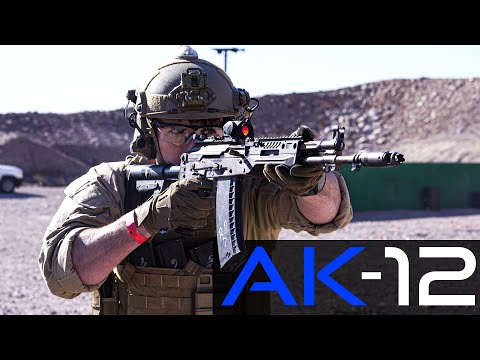 Comment by a viewer
Some missed points from Russian viewer here:
Those "spikes" on muzzle device also used for cutting(or rather shooting) barbed wire.
Muzzle devise connected to barrel through bayonet joint(not sure if correct translation) and not threaded like one on AK74. So it's not interchangeable.
In case he didn't make it clear - AK12 has free-floating hand guard. If you grip it with a lot of force - it will not affect your point of aim.
Magazine has a small flat section at the bottom that is parallel to the barrel, this way rifle is more stable when you rest it on the magazine. It also has indicator at the bottom that sticks out if mag is full, so you can check which one is fresh in the dark.
Hand grip contains cleaning kit - it's not a container for batteries or anything. Guys from military that already have their hands on AK12 say it's very easy to lose this kit.
Cleaning rod is in the buttstock tube in 3 pieces, so no container there either.
QD sling swivel made for this rifle is slightly longer, so you can't attach your sling swivel to AK12, but one made for AK12 will work with your magpul mount.